In 2009 we had a long trip by car along the Rhode Island coast: it was amazing! I took care my pictures we made on the Ocean, as my very special ones. I spent just one day in Providence but I suddenly realized that is a very nice place to live in! Now, our new American obsession is Portland (Oregon) and our new guests, Deet Tick band (based in Providence), recorded their new great album' Negativity' exactly in this city with legendary producer/musician Steve Berlin (The Blasters, Los Lobos, and last year's McCauley side project, Diamond Rugs). WOW!
John McCauley, the songwriter behind the Deer Tick moniker, grew up in Providence, Rhode Island, where he began his career by teaching himself to play drums, guitar, piano, and pedal steel.
John and Deer Tick have long walked a tightwire between total despair and fractured resilience, but Negativity represents a heroic leap forward on virtually all fronts for the Providence, Rhode Island-based band. Read their advice and listen to their new songs, including the duet of John with his new wife, the songwriter Vanessa Carlton. What a lovely couple
The best International music festival and the best live club
I don't like festivals much. The smaller, weirder ones are always better. I'll always love the Newport Folk Festival, which I attend every year. My three favorite clubs are:
2) Higher Ground in Burlington
3-4) Vermont and Paradiso in Amsterdam
When you load in at 9:30 Club they bring you cupcakes!
The Record shop you can't miss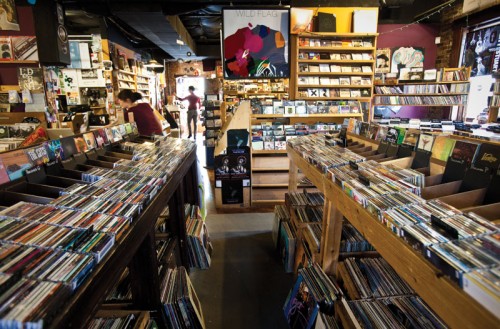 Grimey's in Nashville, Tennessee !
Premier independent record store. It stocks new & preloved CDs, LPs, and DVDs. It has awesome free instore performances on a regular basis with local, national, and international touring bands. Stop in and check it out!
_____________________
Grimery's RECORD SHOP
1604 8th Ave SNashville, TN 3720
 tel +1-615-254-4801
Music & Food (a perfect union): Where would you invite us?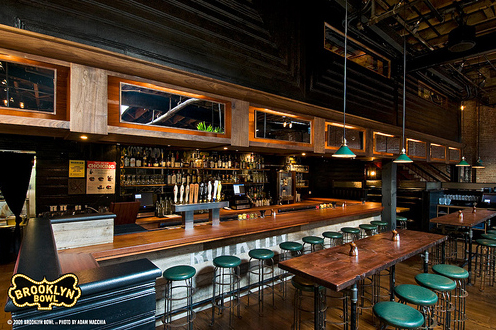 Brooklyn Bowl, Brooklyn, New York.  Get the Egg Shooters with fried oysters on top, and the fried chicken.
"This bowling alley and live music venue fully embraces the new mania for local nostalgia. The space takes its design cues from Coney Island with old freak-show posters and carnival-game relics, and all of the beer sold inside—by Sixpoint, Kelso and the Brooklyn Brewery—is made in the borough" (TIME OUT)
_________________________
Brooklyn Bowl
61 Wythe Ave, Brooklyn, NY 11249
Musical tour: suggested places and spots
I like food so I look forward to visiting my favorite restaurants. Sidney Street Cafe in St. Louis, Missouri, The Noble Pig Deli in Austin, Texas.. My favorite Indian food place is in Leeds, UK. I can't remember the name, but I know how to walk there from the club we always play!
The Ideal soundtrack for your trip
Get the This American Life app. You can stream every episode ever. Talk radio and podcasts are my favorite. I hate listening to music when I drive, puts me to sleep.
Share and Enjoy